11 May 2022
Smiles are the most recognisable facial expression and people can see them from up to 300 feet away. Are you happy with your smile? Or do you feel self-conscious or embarrassed to smile? If you do, there is no need to, teeth whitening is one of the quickest and yet most noticeable dental treatments you can get and can give your smile the boost you need. With summer fast approaching and for many, that means wedding season, why not get a brighter, whiter smile.
Why do our teeth discolour?
Over time it's perfectly normal that our teeth will discolour. This is due to lifestyle factors, such as smoking, drinking, and eating staining foods and can be caused by taking certain medications. It doesn't matter how well you look after your teeth, it's impossible to stop the discolouration as we age, but now there are numerous, fantastic teeth whitening treatments that can lighten your teeth shade.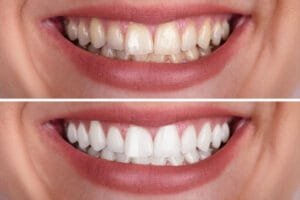 Teeth Whitening
Here at Aesthetique Dental Care in Leeds, we offer easy and convenient tooth whitening treatments. There are two options, in-surgery and at-home whitening kits. Some people prefer completing their whitening from the comfort of their own homes. Whereas some like to come in for chairside whitening. The in-surgery whitening is quicker than home whitening and is generally more powerful.
For home whitening, you will come in to get some customised mouth trays fitted. Then, once these are ready, you use bleaching gel in the trays at home for 30-60 minutes per day, over several weeks. We use Pola Day and your dentist will show you how to use the whitening syringes, which provide a lovely natural white shade.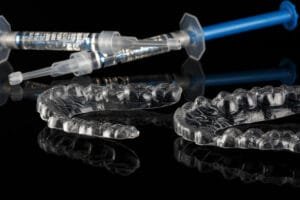 Enlighten Whitening
The second option is more comprehensive and comprises the Enlighten Whitening package. For this in-surgery whitening, you will attend our practice and have a digital scan taken. This scan will be used to create your customised whitening trays. You will be provided with a de-sensitising toothpaste and some at-home whitening kits to use for two weeks every night. This system will gently yet effectively whiten your teeth but minimise tooth sensitivity sometimes caused by the tooth whitening process.
Following these two weeks, you will attend the practice and be given a booster teeth whitening appointment. Enlighten guarantees a B1 shade for 98% of cases. It is known as the only tooth whitening system that guarantees this shade. The results can be maintained for a lifetime with at-home whitening top-ups.
FAQs
Will crowns, veneers, or composite fillings be whitened?
Sadly, it is not possible to whiten cosmetic dentistry such as veneers and crowns. We would recommend that you have any whitening completed first and then have any restorative work you need doing afterward.
Do I need to avoid teeth-staining food and drinks?
You can carry on drinking coffee and red wine and eating curries and berries whilst you are having your teeth whitening treatment. This is fine before, during, and after your treatment.
Is teeth whitening safe?
Yes, teeth whitening is perfectly safe. Professional whitening must be performed under the supervision of a dentist in the UK. Treatments from beauty salons or hairdressers would be unregulated and should be avoided due to the danger of long-term damage to your teeth and gums.
Is teeth whitening painful?
There may be some tooth sensitivity, but the treatment should be completely pain-free. The sensitivity should diminish and improve once your treatment is finished.
If you would like to get a brighter, whiter smile this summer, please speak with our friendly team on 0113 245 8066 to make your initial appointment.
Back to Blog